PRE-HISTORY
"Blue Moppie" 1961 Cowes / Torquay Race - Sam Griffith driving.
_______________________________________________________________
Before the Super Nova was ever thought of I'm pretty sure it went down something like this.
________________________________________________________________
It all started in Dade County, Florida in the early 1960's. "Miami glamour boats" were conceived and brought to the world by the "Brat Pack" and there undisputed leader Don Aronow.
To Donald Joel Aronow born in Brooklyn, New York in 1927, racing and the designing and building of ever-faster, even more durable boats in which to race was the whole scene. Don wasn't the poorest man when he and his family retired to Florida at the ripe old age of 33. Before moving to Florida Don tried his hand at a couple occupations before joining his farther in law's construction company. Don soon started his own construction company and made a small fortune building houses in New Jersey. He could well afford Offshore Racing and later became an "Offshore Racing Champion" a couple times and held the record for most race wins in a season till 1977.
Don was in many ways the driving force behind the whole movement that has resulted in the high speed offshore boats we know today.
He was not the first. That honor goes to the father emeritus of the "Brat Pack". Dick Bertram with his now famous Ray Hunt designed "Moppie".
Formula 233 Magnum's 35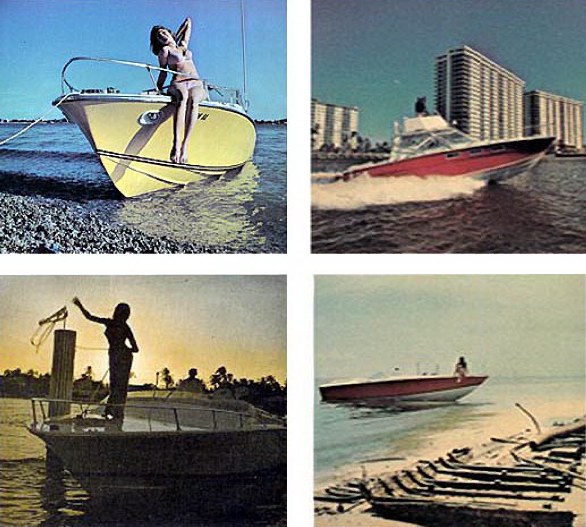 Cary 28 Bertram's Baron
Nor was he alone. Many others not the least of which were designers like Peter Guerke, Jim Wynne, Walt Waters and John Gill, all contributed heavily in terms of talent, interest and diligence. But, it is safe to say that know one did more then Don Aronow.
With Don racing was love at first sight but the early 1960's boats were something else. Convinced he could do better he got together Dave Stirret and Jake Trotter and built the first Formula, a 27-footer followed shortly by the Wynne-Walter's Formula 233. The 233 was know at the time as the best running hull in the business.
It has been said (not by us) that the Formula Boat company was started in late 1963 as a "tax dodge" and to finance a new 23' race boat and race season.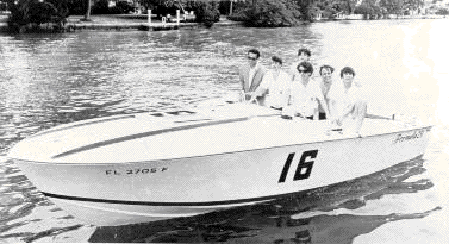 1965 Don with the Beatles in a Formula.
Late 1963, early 1964 Don and his partner sold there interest in the Formula company to Merrick Lewis, another luminary in offshore circles. Lewis bought Formula as a stable mate for his Thunderbird and Maritime boats for a undisclosed amount. "It was a substantial and satisfactory amount," Aronow said.
The move by Don and his partner, Dave Stirrat was very surprising due to it was the Formula Boat Company's first year in the black and prospects for the following year were very optimistic.
Thanks to David Hartmann for the great information on this picture.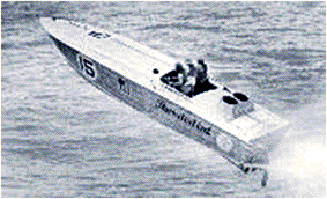 From David, "It is a aluminum boat kind of a formula design This picture is from the 1966 Sam Griffith Memorial. The boat finished 2 hours ahead of the only other boat to finish. Driving is Jim Wynne, Walter Walters is on the other side and my father Harold (Hal) Hartmann is in the middle.
That boat has two 450 hp gas turbine (jet) engines. Actually that is why my father was there. He was a project engineer for United Aircraft (former United Technologies) when they were trying to prove the dependability of jet engines. They had an open check book."
Jim, the new owner is restoring the boat and is looking to get out and show it off. We think it's great he is not going to hide it away in some collection. So be on the look out for it at the big boating meets and get a first hand look at history!
After the sale Don and the boys were left with a shop and a lot of trophies and nothing to do. With these guys that didn't last long and they started building again but this time they got a head start. Prior to the sale of Formula they had been working with the idea based on the prototype boat, the "Wyn Mill II" designed by Jim Wynne. Jim won the offshore championship in 1964 and many international records, Endurance Races and eight world marathon records with the little boat along the way. The design team composed of Don, Dave Stirrat, Jim Wynne and Waltman Walters knew the hull and the strake designs were proven in the Wyn Mill II and with a little tweaking to the design they came up with the Donzi 16. As for where the name comes from there are many versions. Everything from a D J saying it to describe Don's style of boats, to what Don's secretary called him, to his buddies giving him a girlie name.
Allan "Brownie" Brown
was brought in as Sales Manager (and it could be said as Court Jester) and the boat building, racing and what not went on. The first production
Donzi16
was introduced at the Jacksonville boat show and the company took off. The boats they built were very successful and it was not long before
Teleflex
appeared and bought the
Donzi
company.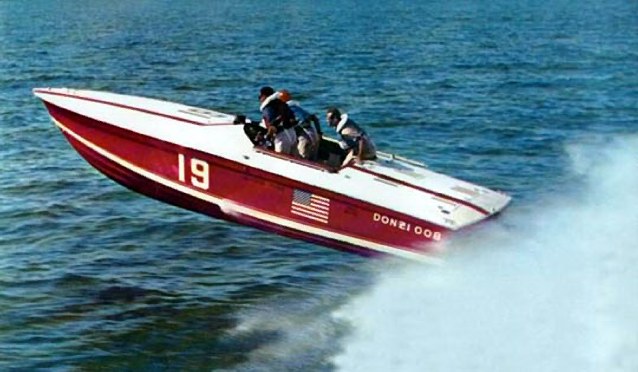 1966 Miami to Nassau race. Don Aronow, Dave Stirrat and Mark "Big Dirty" Raymond.
Brownie stayed with Donzi but Don and the boys were again without boats to build. So again the boys went back to work and a new company was born. Magnum Marine was started, made successful and sold in no time to Apeco (a photo copy equipment company) owned by Bobby and Clayton Rautbord with Clayton taking the leed and running the show shortly thereafter.
My favorite race boat(s) picture.
I wish I could find a bigger and better version.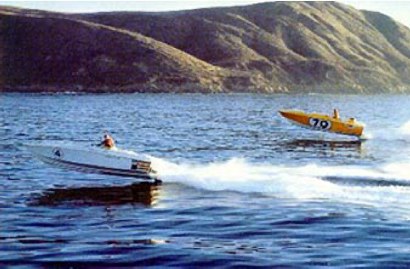 Don (left) in Maltese Magnum leading Mona Lou 11 in the 1967
Long Beach to San Francisco race.
From there Don went on to the 32' Cigarette, Don's spectacularly successful boat was built to order by Cary Marine. Don would later say "It was a brute of a boat and was virtually uncontrollable but it flew in big seas. Ripping through six foot waves at nearly 80 mph in an era when 70 mph was fast on flat water. If you could keep the deck pointed upright, nothing could touch it."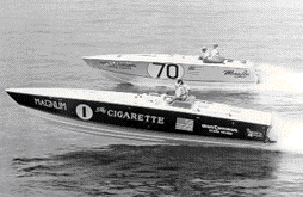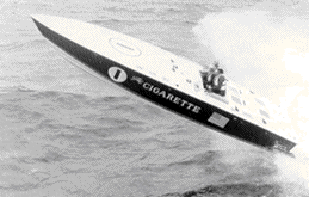 The Cigarette built, designed and driven by Aronow, racing the 31' Bertum, Mona.
Don always had a go for it attitude that seem to work for him most times but not always. Aronow always insisted he was not a boater. Day cruising was not his thing. Don would say "I am a designer, racer and experimenter. I love the competition. I never built a boat for the public. I designed them for racing and for myself."
It took three years before he realized he was losing races because he always went full speed no matter what the sea condition was. One race the boat was taking a real beating, Allan Brown riding along as the navigator said "You know, we can still win even if we back off a little." Aronow stared at him for a couple seconds, grinned, then shoved the throttles wide open. That time the boat held together.
Brownie also recalled another time, "In a normally calm weather race (1966 Houston Channel Derby) crossing Galveston Bay, Don and I was more then a half mile behind the leader, in second when they came up on three tug boats and a couple oil tankers. All the other boats slowed and came off plain when they saw those huge wakes. That crazy Aronow never pulled the throttle back an inch." Brownie would say, "Going over those wakes was just awful. We were jumping so fantastically high in the air that it seemed we could have flown over the tankers themselves. By the time we crossed their wakes, we were a half mile ahead. Coming back, jumping those wakes from the other direction was even worse. We were flying 100 feet out of the water" Aronow would say,"We won a real good trophy that race".
Sometimes having this attitude didn't work out and Don had the scars to prove it. Like one time after Brownie left to run the Donzi shop when it was sold. "Aronow came running down the channel in one of his new Magnum boats doing about 70 mph trailing a huge wake and wearing a big grin. He cut the throttle and threw the wheel over to wash me down while I stood on a dock," Brownie recalls. "The only problem was the throttle was broken and the boat never slowed down. The last we saw of Don, he and the boat jumped the sea wall and disappeared into the woods."
Sadly Don Aronow was murdered while leaving the Apache Powerboats factory, February of 1987. The main theory behind the murder
is when Aronow sold the USA Racing Co (another company started by Don) to Ben Kramer, a man known to the DEA for having ties to Columbian drug loads.
U.S. Customs had a contract with USA Racing to build 12 boats when the company was sold to Kramer but Customs would not do business with him and canceled there order. With USA Racing have practically no business Don was forced to buy the company back. Kramer was bitter and it was made worse when Customs officials reinstated the order for the original 12 boats, plus 20 more.
The day before Don was supposed to testify against Kramer on Federal racketeering and other charges, Don was shot 5 times by the trigger man Bobby Young killing him. In later testimony it would come out that Kramer had hired Young for the job. Both were convicted of manslaughter in 1996 along with many other charges.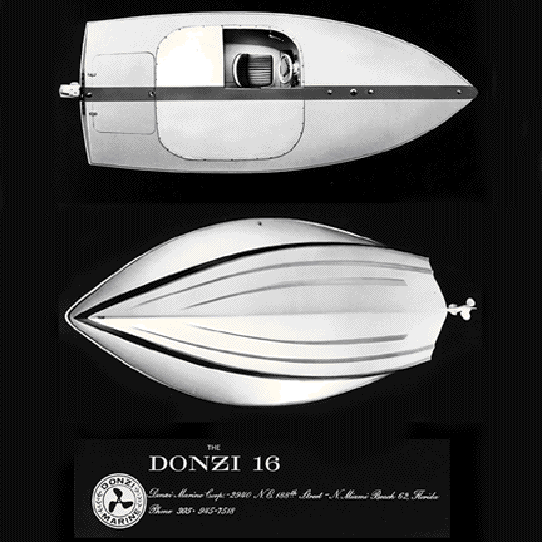 1968 Donzi 16 sales brochure.
While Don was away the "brat pack" wasn't sitting idle.
Dick Bertram went in pursuit of having his name sake company build bigger and faster boats. Bobby Rautbard who's family had a major interest in the Magnum went on to build the FINO. The ultimate of ultimate sport boats of the time and its name sake is still today.
Elton Cary dabbled in being the insurance man for many of the builders for a while but also went back to produced "first water sports boats" when he was not building Cigarettes.
Where he made a boat I fell in love with, another that made his chapter of sport boating history and later, one you just have to see!
The Donzi Marine - Ski Sporter
(Later known as the Sweet-16)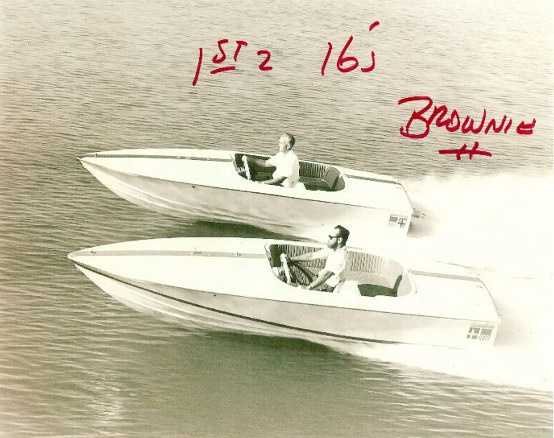 Allan Brown and Jim Wynne making history before making history.
A true classic that all others are judged against.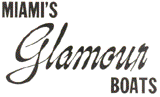 The SuperNova19 Network