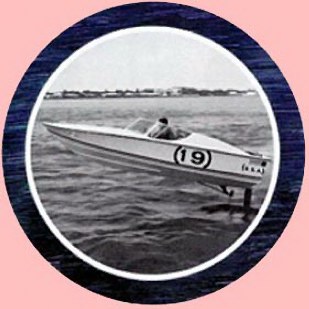 _________________________________________________________________________________
Allan "Brownie" Brown split from Don Aronow and would stay with the Donzi company after it was sold it to Teleflex.
"Brownie" as most would know Allan by would spend his time through the mid to late 1960's perfecting his craft and running off shore powerboat races for the Donzi company before moving on to start his own company.
_________________________________________________________________________________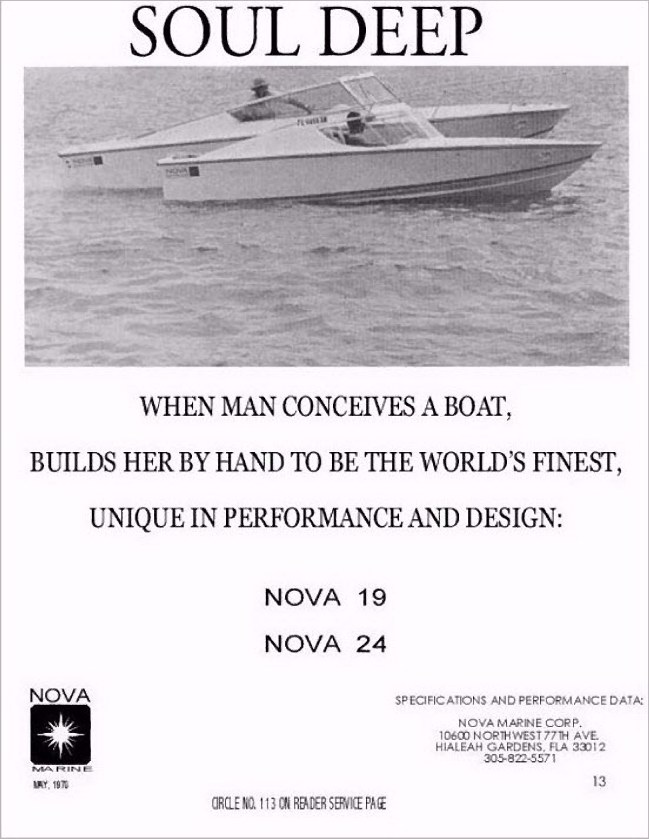 This is an original add for the Nova 19 and its sister the Nova 24.
I spent hours restoring the page from age and water damage just so it could be read.
NOVA MARINE
Brownie with his partner Bill Wishnick, a well accomplished offshore racer in his own right and historical designer Dick Cole designed the boats for Nova Marine and would personally water test every boat off the production line. "Lets face it" Brownie would say, "no boat is perfect. And we're equipped to cope with problems the dealers may not be able to handle."
There passion for perfection and detail undoubtedly stems from Brownie's offshore racing background. Nova Marine built boats using all the knowledge they obtained from building race boats in the past, in deep-vee hulls of a more modest and practical size.
A natural respect for rough water shows the moment you look at a Nova. With a wrap around windshield defeating side spray picked up by the wind. A padded cockpit which Brownie calls a "coaming bolster," designed to protect a passenger should they lose there balance when under way. "You could fall in this cockpit all day and never get hurt," said Brownie. Also there was grab rails placed where they would provide hand holds when standing or moving about the boat when underway. There was also many other things that stand out that you would only find in a Nova Marine manufactured boat.
By the time the Nova concepts were built, offshore ocean racing had moved to much larger boats-lengths of over 30 feet were normal and were much narrower and very sensitive as any high breed racing boats must be. With that said the Nova 24 with its wide beam and relatively short length would still go on to win its share of offshore races. Even the Nova 19 would get in on the act later in 1970.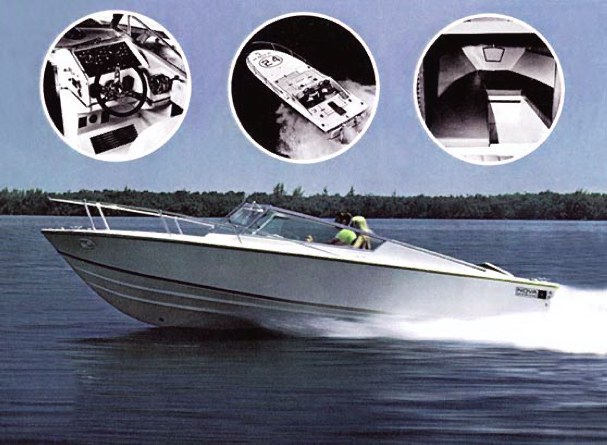 The NOVA24 was the first boat offered by NOVA MARINE. The original concept for the NOVA24, according to Brownie came about something like this.
"I took the 7 meter Donzi race boat that I bought from Tim and John Chisholm." explained Brownie. "Dick Cole and I (mostly Dick) drew the 7 meter for Donzi while I was there. Chopped and channeled it into a 24'10" X 8' 2 1/2" boat and used the foredeck from the 28' Cary to form the deck". The boat was always advertised as having a 8' beam to make it legal to be trailered without having special permits (see the ad below).
The Nova24 weighed 4400 pounds with a deep-V hull form with a deadrise of 24.7 degrees making her a floating wedge. Standard power was a pair of Holman and Moody engines producing 235hp each. The power was delivered by two vee-drives with a gear reduction of 1.15 to 1 or within 87% of being straight drive. There was no expense spared fitting out the boat with Ni Bral alloy 14 X 16 heavily cupped props. "I think those wheels could chop up a two-by-four." Brownie would add, "The shafts were stainless steel and we spent a lot more money under the boat then we had to in order to make everything five times stronger than she has to be." The reason for this was to spare the buyer headaches from mishaps. For an example the rudders were mounted on the transom in housings with the housing tops above the water line. If you tore a rudder off there should be no leaks.
Again drawing on there race boat expertise they knew how light they could build a hull and expect it to hold together. They knew how to build and install gas tanks so that they were secure under the roughest handling. They knew how to build and install engines so they are reliable when the going got tough and reliability is the most valued attribute. In little details, and in overall concepts, the experience gained by offshore racing shows.
Yet the above deck areas were loaded with luxury touches for the time. Bucket seats, padded sun deck and full interior. There was beautifully finished teak ceiling on each side of the cockpit completing the interior. Also excellent deck hardware and full instrumentation that was orderly and complete. In the small forward cabin there was two bunks with stowage below each and shelving above.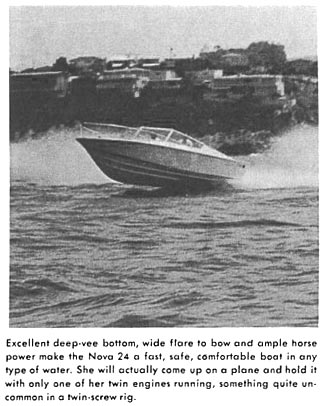 Nova 24 in action.
The Nova24 would have its small critiques. One would mention the fish box or as Brownie jokingly called "the fish press" as being extremely shallow. It extends across the transom and can accommodate a very long fish as long as it is a very skinny one. Brownie observed that "the box would accommodate a standing beer and the unit would probably be used for beverages anyway." The reason for the box being so shallow was obvious. The engines exhaust are looped sharply upward to a maximum height to eliminate the chance of sucking up sea water thru the exhaust. Having his share of breakdowns at sea Brownie tried to make maintenance as easy as possible. Like the instrument panel can be easily removed to expose the underside and inner workings of the steering system. Just to name a couple but there was many more throughout the boat. Like the battery location. Brownie located them as far forward as possible. "If you do make water," Brownie explained, "engine weight will cause her first to settle by the stern. That will keep the battery out of the water as long as possible." Just in case of such emergencies there is a bilge pump and a drain hole with a plug that can be pulled from inside the boat. "You can drain a lot of water that way," Brownie said.
In performance the Nova24 is in a class by itself. With its base option motors it leaps on a plane in four seconds flat. Top speed was 47mph and cruising speed was around 43mph and the Nova24 would take seas of three feet or more at full throttle with little notice.
The boat would sell new in 1970 for $14,250.00 base price and options were extra.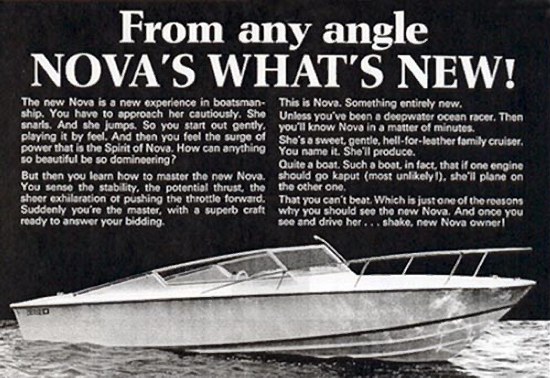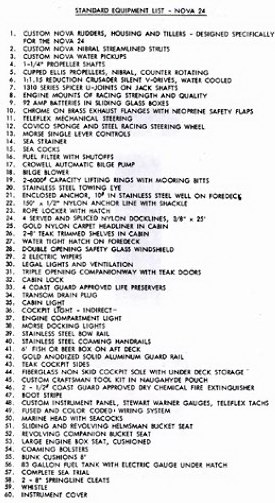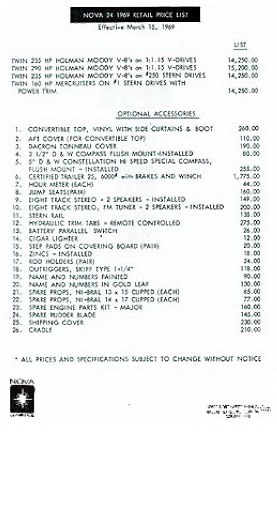 We are always on the hunt for these boats.
There's a few still around and can be found with a little help and luck.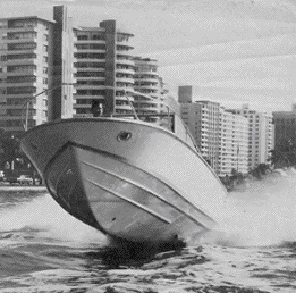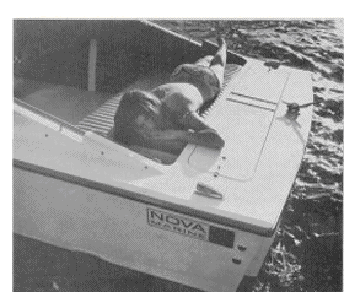 NOVA24
_________________________________________________________________________________
Next came the
NOVA 19.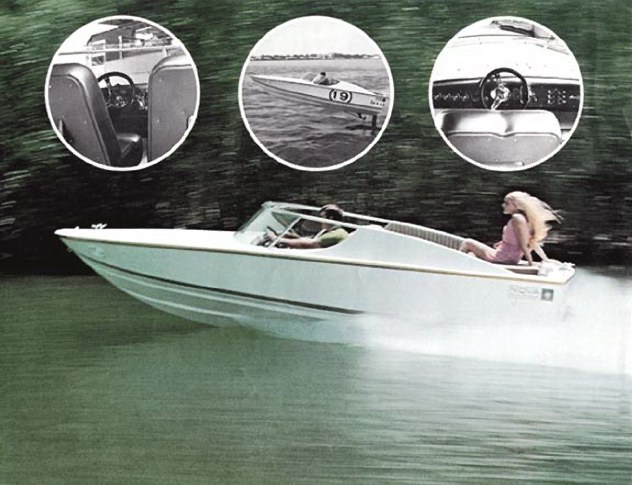 This is the only color ad I could ever find of the NOVA MARINE 19.
The Super Nova 19 is certainly not a bargain basement, all purpose boat. The man who wants a sexy, high- performance boat constructed to raceboat standards of quality will not be disappointed in her. And if his tastes turn to offshore racing he'll have a fair chance of success with the Nova 19, as Brownie proved back in May of 1970. Winning the inboard division of the Miami-Key Largo race against many larger and faster boat in a pretty much stock Nova 19.
There's many stories behind the original concept of the Nova19. The official press statement was "I had a hot little "brand x" (I will bet it was a Donzi 16) just for sporting around, but my wife got nervous in it. The deck was about waist level when she was seated and sometimes she would come unseated." said Brownie. " I figured if I could get a good, wide seat and get the steering over toward the centerline, she could chock herself in between me and the side of the boat. Then if I could raise the side of the boat without making the whole thing look like a shipping carton she'd feel a lot more secure. That is why I went to a side panel and wrap around windshield bar, and it worked. The next problem was designing a bottom to go around this wide cockpit, and make it perform. It took us a while , but I think we got it."
I asked Brownie myself once many years later "why it was built so wide? Could it be for stability?" His reply was "I start with four fat asses in two seats and built the boat around that." After that he then said "I used the gunwale, sides and the transom from the NOVA24, the deck from a 28' Cary and a wild imagination". Another time the same question was asked of him and again he stated pretty much the same answer but this time he added "The Nova19 was special". To me that was strong words from a humble genius of a boat builder. For a guy who has been involved with so much history in the boating world saying 35 years later that a pretty much unknown boat was "special" put that boat on a higher level for me.
He also told me that most of the NOVA19's that he built came with a 426ci Chrysler and vee-drives. He did make a couple odd balls with different motors and even some with what Brownie considered (and still does)
"the instrument of the devil" the aluminum outdrive.
Holman / Moody seem to have been the motor builder of choice. Most of all performance boat builders of Florida from that time used them. All the NOVA MARINE boats that I have come in contact with have a Holman/ Moody stamp on them somewhere.
Overall performance was excellent. Handling well in tight quarters at low speeds and in rough seas at 50 mph. On a plane the running angle was excellent and the ride was amazingly soft even in rough water. Her gentleness in flying off wave tops and coming down again is eloquent explanation of her ability to outrun boats in rough water races.
Yet again, like the NOVA24, the above deck areas were loaded with luxury touches for the time. Large bucket seats, full interior. Also excellent deck hardware and full instrumentation that was orderly and complete. Being the hull was 8' wide at the transom left the NOVA19 with ample cockpit room. The boat can easily handle a family of five with room to spare if they dared to ride with you.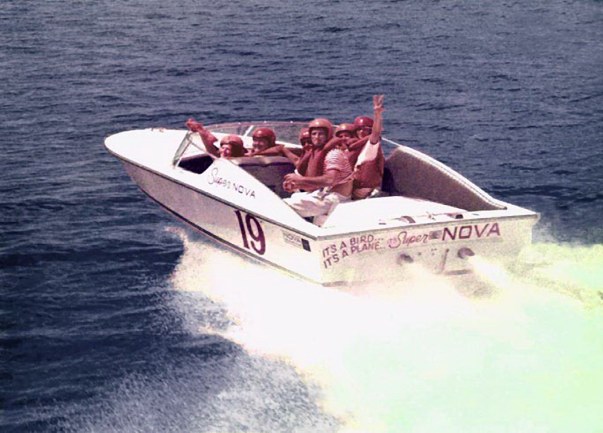 Brownie and the gang out for a ride.
I think I need to pick up a racing helmet.

The NOVA19 shares more then just parts of the NOVA24's hull mold.
Both are deep-vee bottoms with the dead rise lying between 23 and 25 degrees at the transom. More likely closer to 24.7 degrees. They both continued this vee forward for at least a third of the length of the boat. Then slowly increase the steepness of the vee as the bow is approached. Strakes were placed in just the right way so they would break spray away from the hull and act as a chine when the boat was on a full plane. The real chine would be airborne at that point and have no hydrodynamic significance.
The reduction in beam allowed the boat to reduce the wetted surface and therefore friction. This also increased the load on the bottom. The higher the load the smoother the ride. A short wide boat is not good for rough seas but by reducing the beam keeps a long, slim bottom in the water at speed, a bottom that is much more at home at sea. It is also said that this design allows the bow to rise more easily to a wave and will ease the reentry of the hull after it has been airborne.
From my experience, it works.
Nova Marine Construction was second to none.
I know I said before "Drawing from their racing experience they knew how light they could build a hull and expect it to hold together" but I have not seen many boat hulls built as solidly as these boats.
Brownie said, "the layup under the gel coat was two layers of 3/4-ounce mat, then three layers of 24-ounce roving with 1 and 1/2-ounce mat in between. An eggcrate stringer system is then dropped in the bottom, and the 1/2 plywood stringers were wrapped in and then three more layers of roving with mat between. The cockpit sole is 3/4 fir plywood glassed at the sides and resting on the stringers, covered by white Nautolex. Any place in the bottom there is six layers of roving." If you could find any of these boats today I am sure all the wood would be as solid as the day the boat was built. You could strike NOVA boats with a hammer and I don't think there would be any damage besides a scuff mark and that is on the inside, unfinished areas. The hull of the boat is nearly indestructible.
The NOVA19 originally sold for $10,500.00 in 1971.
Brownie and NOVA Marine went on to produce 124 of the NOVA24's and only 32 of the NOVA19's before the company was sold in April of 1971.
Brownie said, "We had a great little boat company there. With Billy Wishnick (maybe the nicest guy in the world) backing it but the 1970's recession bit us in the ass and we sold."
To date I have met a couple folks by email who was still in possession of a Nova Marine Nova19 and a couple others that own Allmand SuperNova19's So they are still out there. The rest of the folks I have talked to that used to own one are sorry they dont now.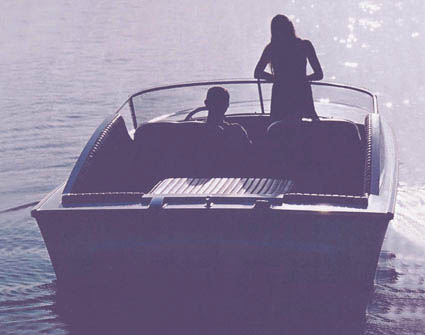 Brownie
would go on for many years with different titles in the marine industry. He is (as of 2005) 69 years young and can still be found today around (where else)
Donzi.org
.
If you have something interesting to say he may even post you back but be forewarned he is not a big talker.
Don't cross him either, he has been known to have a feisty side.
A few years ago, boat builder
Don Aronow
ran one of his
Magnum
speed boats past
Allen Brown's
Donzi
shop and washed one of
Brownie's
boats completely out of the water and onto the dock.
Brownie
took revenge by getting a pistol and shooting out all the lights at the back of
Aronow's
boat yard next door. Don then tried to take revenge but failed, (the rest of the story is on the
PRE-HISTORY
page).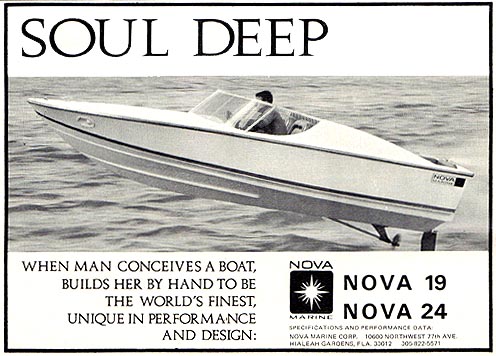 _________________________________________________________________________________
* Brownie The Racer *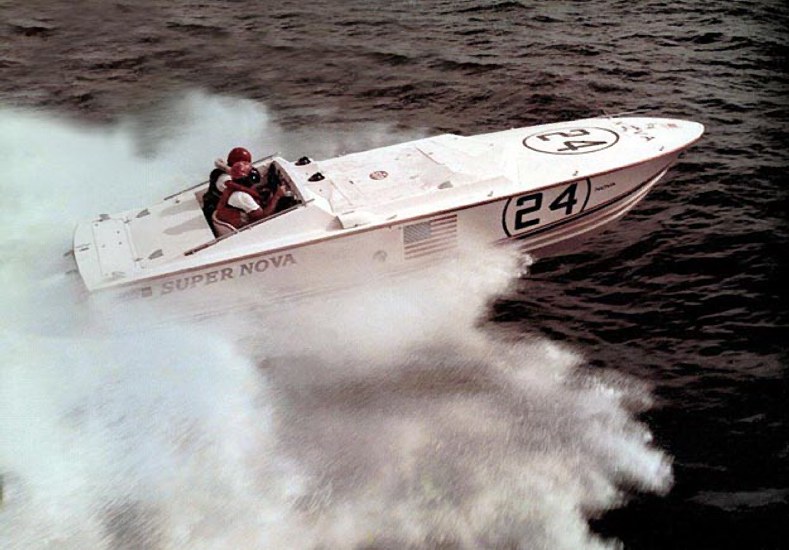 Nova24 Race Boat.
Allan "Brownie" Brown and Bill Wishnick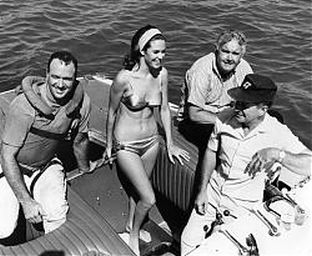 Brownie, Big Dirty and the 1967 Playmate of the Year aboard Blue Devil
Allan "Brownie" Brown
also had a racing career. He
participated
in and won many offshore races like the 1966 Hennessy Long Island Marathon, 1967 West Palm Beach Gateway Marathon and the 1967 Miami-Nassau race.
Brownie's
racing career almost ended in 1968 when he built the
SUPERNOVA24
race boat with tandem motors and a single V-drive. "The motors were a pair of 800hp Coopman, Blown, Fords."
Brownie
would later say, "That boat pretty much ended my racing career in the Miami / Nassau race when we (with my riding mechanic and bodyguard Mark "Big Dirty" Raymond) got sideways going about 70 mph in 5' seas." When that happened Brownie was the defending champion of the race, winning the event in 1967.
But racing is in Brownie's blood and he would be back in a boat soon enough. Brownie would later run another one of his creations, a stock Nova19 and would go on to win the inboard division in the 1972 Miami- Key Largo race with it. "The boat had a single 375 hp Chrysler. She was stock in all other respects except for extra tanks, a special set of racing seats and a racing compass mounted on the foredeck." Brownie would say in a interview. "We were competing against some big ocean racers and some big power. We were hoping for some rough water and we got it. There were faster boats among the 35 starters, but we could outrun them in rough going and there was enough rough going in the two 54 mile legs that we were able to win. Our average speed was 52mph."
Even after all that Brownie still went on to build some of the coolest boats in history. With that and everything else he contributed to the "sport boat" industry it would never be the same.
A funny story. I'm not sure how true it is but it comes from a creditable source so here goes.
"I enjoyed the Nova website - here's a bit a historical trivia for you - I placed 2nd behind Brownie in the 1970 Miami-Key Largo race in a custom 18 foot modified deep V with a 302 Chevy - turns out Brownie and his co-pilot took their helmets off right after crossing the finish line and were disqualified - I was awarded the first place trophy by default - I spoke with Brownie about this and offered to send him the trophy cup at the Donzi rally in Sarasota a few years ago - he said that since he and his crew had enjoyed a couple adult beverages on the final leg off the race, he had no interest in talking to the officials - he knew he won the race and that's all he needed."
JB
How cool is that!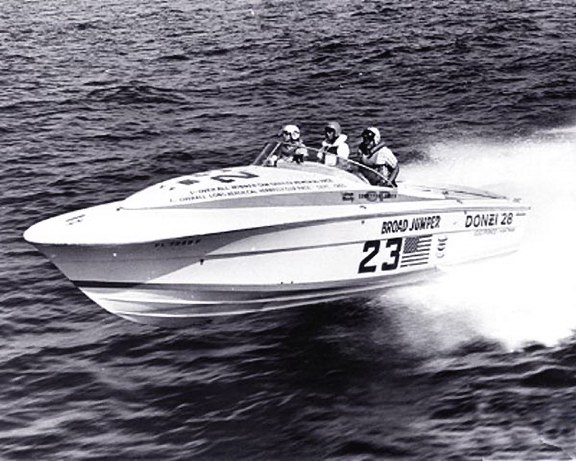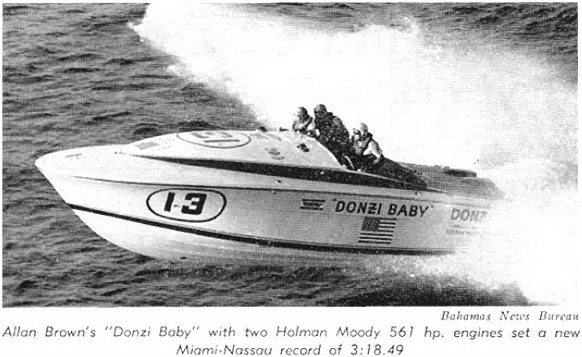 Donzi 28' "Donzi Baby"
The 1967 champion of the annual Miami to Nassau Race.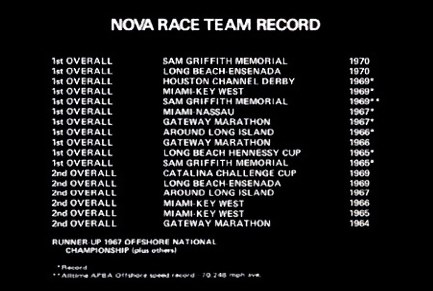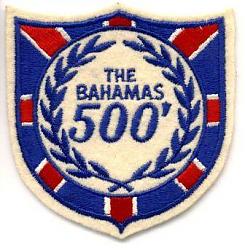 Brownie at work.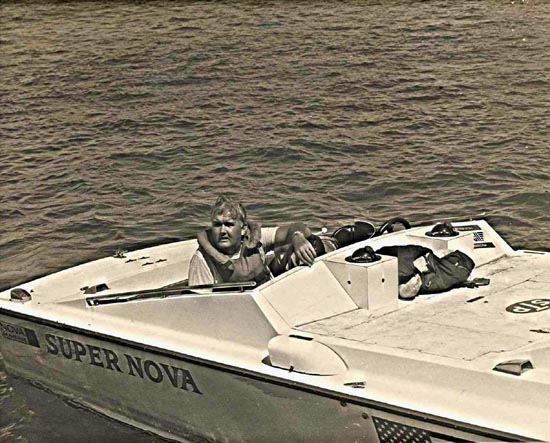 _________________________________________________________________________________
***What happened to the molds of the 19 and the 24 you ask?***
The NOVA19's Mold
They first dropped the
19
and it became just the
Super Nova
, but we have heard of it referred to by other names
like
"Sprint"
and
"Jumper"
to name a few. We know it's not a
Jumper
. The
Jumper
is a really neat boat in it's own right. If you never saw one you have to check out the
JOHN ALLMAND BOATS
inc
page for more information and pictures on it and also what they did with the 19.
The NOVA24's Mold
Here is the history I wrote about before, the mold was sold to WellCraft and used for a long line of WellCraft Nova's and later became the prototype for many WellCraft lines that were produced for many years and the basic design can still be seen in boats being produced to this day.
The Race Boat
It's in our driveway if it's not on the water.
_________________________________________________________________________________
On a personal note. I know Don Aronow's "Donzi" is a household name but how many do you see on the water compared to how many Wellcraft Nova's? Not knocking Donzi's. We even restored a 1976 Donzi 18 Classic and it turned out to be a really nice boat but a good design is a good design
When I saw my Nova 19 for the first time, never seeing a NOVA Marine before, the first thing I said was, "It looks like a Donzi on steroids." I would find out much later how true that statement really was.
_________________________________________________________________________________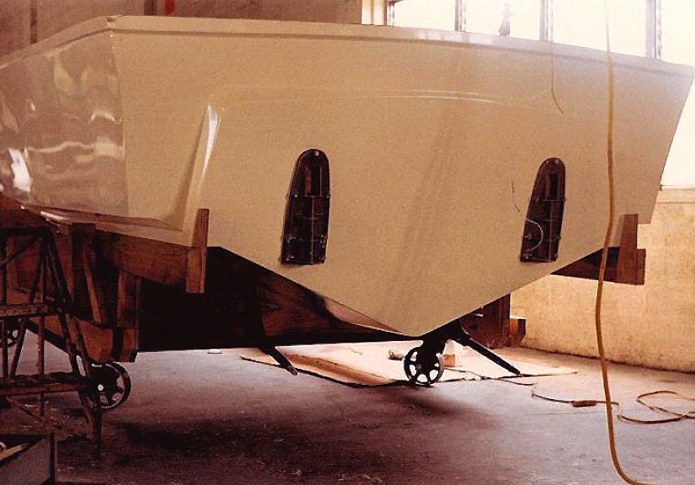 Basking In The Florida Sun.
_________________________________________________________

________________________________________________________
The
Alpha Z
This is something I ran across while visiting my friends at the
Donzi Registry
. I personally think this is one of the coolest boats I have ever saw and you can thank our buddy
Brownie
for it.
"Yeah, I drew it. It was the first
Alpha Z
, for
Jeff Jones
.
Michael (Aronow)
did the next one,
the most beautiful boat I ever saw", said
Brownie
.
And we agree!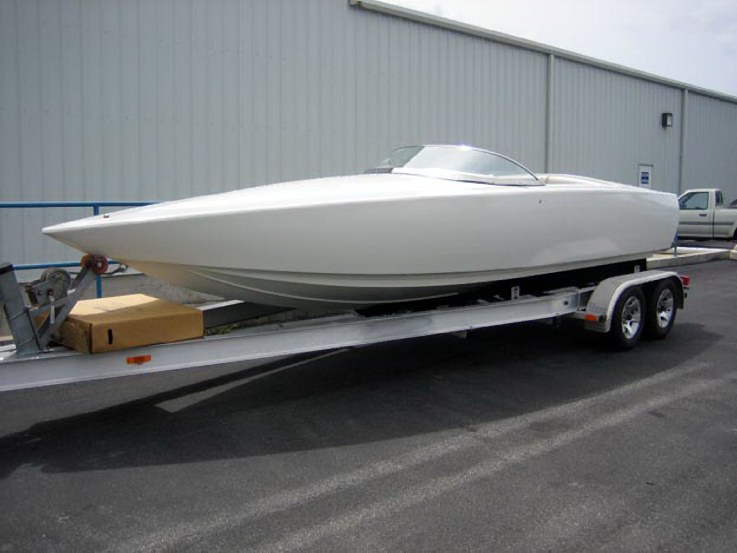 THE ALPHA Z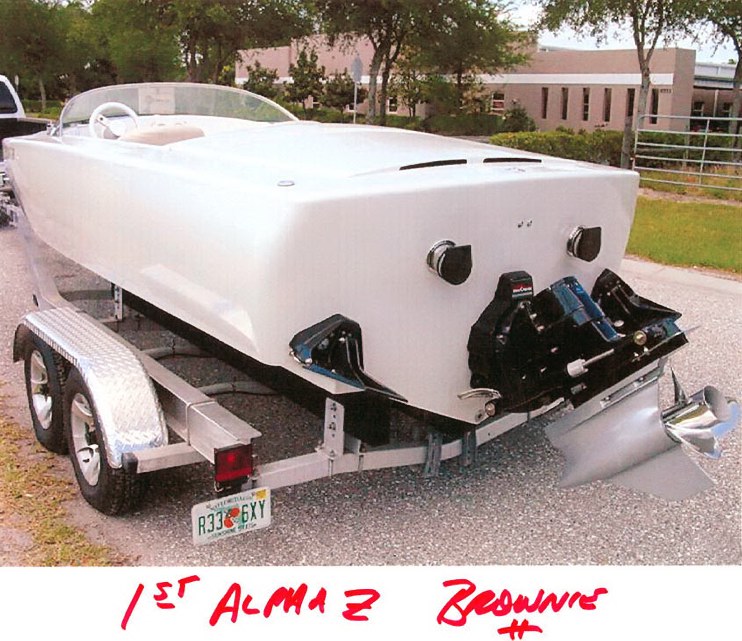 Thank You Allan and Mike Brown for this great picture!

I just wish that was my truck pulling it away.
The SuperNova19 Network