My Super Nova 19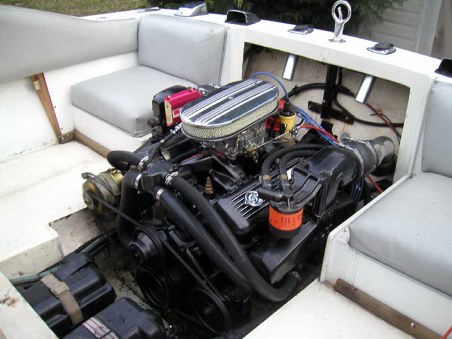 This is the start.
(The best start we have ever had.)
____________________________________________________________________
THE SPRING 2008 BUILD SHEET
Started with;
1986, MIE/340 (7.4) 454 Big Block
Dip it and hone the decks and cylinders (the cylinders did not need to be cut and are standard bore)
Block was detailed with all casting debris removed
Stock seasoned crank (also cleaned up)
Reconditioned connecting rods
ARP Rod bolts
.210 Domed Speed pro pistons and pins. (They should give me 9.38 to 1)
Molly piston rings
Federal Mogal bearings (cam, main & rod)
Cloyes true double roller timing chain
Moroso Chevrolet 454 Stud Girdles #6729 BBC
Crane #132561 hydraulic cam--Duration Advertised: 298° Intake / 306° Exhaust Duration @ .050'' Lift: 228° Intake / 236° Exhaust Valve Lift w/1.7 Rockers: .530'' Intake / .551'' Exhaust Lobe Separation Angle: 114°
Crane #99277 lifters
Comp Cams High-Tech pushrods #7954
Completely refreshed Chevy 14096188 heads / 454 Open / 118cc / 3angle valve
Comp Performance Valve Springs #911-16
Pioneer head bolt sets
ARP 1.90 rocker studs
Norris S/S 1.7 roller rockers
Melling H/V oil pump
Melling HV oil pump shaft
EDELBROCK BBC R2 AIRGAP INTAKE
JEGS 15951 - Mechanical Fuel Pump
Pro Comp Ignition
Pro Comp distributor
Super Stock coil
8mm Accel Hi performance wires
New single wire alternator
Mini (gear reduction and fully marine) starter
Edelbrock 800 carburetor
12" aluminum, oval air cleaner (with K&N filter)
Brass freeze plugs
Stainless steel bolt set
4Ē Stainless steel risers
GLM aluminum exhaust manifolds
Sherwood motor mounted raw water pump.
Now for the fun.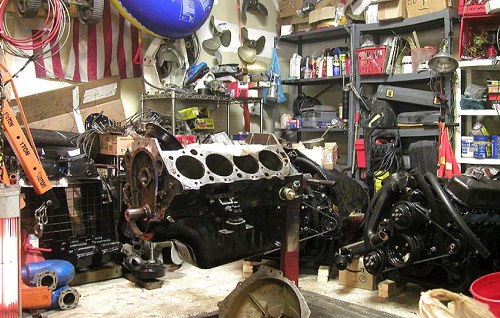 Doing something a little different this time.
This whole project got started because of the race boat.
It seems like a stretch but it's true. When I bought 2 motors for it little did I know I would end up with 3 due to many reasons. It's a real long story and you if want to know more about it you can check out the
Nova 24 Race Boat
section but the short version is I ended up with two Gen V's and a Mark IV, 454's. Not my first choice for a "race boat" but it was a no brainer to use the Gen V's for it being they matched. I just had to fix all the things GM fixed with the Gen IV version.
This winter (2009) was all about getting both of the Gen V's ready for the race boat for this coming spring.
With the 2 motors done early I added a 3rd motor to build for ... something. It was just figuring out for what. The Monza needed it (a boat I'm rebuilding to sell). It would be nice to build something a little wild but doing the right thing was in order. Take the parts left over form the multiple Nova motor builds and use them to build a motor to sell with the Monza.
So off I went to build a MerCruiser 330 stock motor.
So I ripped the 3rd motor down. It was so new inside that it still had molly lube on the lifters. The guy I bought it from said it was rebuilt and only started once but after that it sat for a long time. To long. It also had a little water intrusion. The pistons were stiff on the rods or basically all the stuff that happens to a motor that sits to long outside.
Now this is where things start to get a bit off track.
It is a Mark IV, 4 bolt. I want to keep the 4 bolt.
I have a 2 bolt in the Nova now. I know it's no big deal under 700hp but the 4 bolt is worth more money. A lot more for some reason and to sell it with the Monza seems like a waste. Also it would kill me to find out that someone bought the Monza, a 40 year old, restored, classic just for the motor.
So I'm thinking I can build this 4 bolt just like the motor that's in the Nova now. Then the best of what is on the 2 bolt will go on the 4 bolt and I get a brand new bottom end. It's been 3 seasons, it's time anyway's. Then I can take the short block that comes out of the Nova and put some of it's original stuff (from past builds) back on it and dump it in the Monza as a stock Merc 330 with a few upgrades. Well, a lot of upgrades.
"Did we miss a turn back there?"
Now this stuff started to get a little crazy.
I had already ordered the 30 over pistons and rebuild kit. I left the crank in it when taking it apart. I only pulled the motor apart enough to get sizes off the bearings and stuff and took the pistons out so I could get the new ones mounted to the rods (.210 domed like with the 2 bolt). I really didn't want the crank laying around the garage so it stayed. The journals looked fine and I wanted to keep them that way so I even put the oil pan back on until I was ready to build.
As things came in it was time to get the rest of it broken down. Let's just say it was not a pretty day.
I got everything out and cleaned up and then it started. I found a pretty bad bolt nick in one of the rod journals (not from me). Being the crank in it was already cut .10 under meant that a new crank was in order. Then I found 2 of the cylinders had some damage. It's slight but still there.
So now I need the crank turned or replaced, new pistons and maybe the block need to be cut.
Not a good start.
"Let's try this way"
So as I am sitting in my garage chair I'm thinking this has to be done right. This is going in my boat and I don't baby my motors.
First, it will need a new crank. Second, the pistons I have on the way......well there may be an issue. The rods need new bolts, hell I should even replace the rods all together just in case there is a pro charger or something in my future. This is not turning out to be a simple swap and drop project at all. I need a plan.
I hit the Internet to find some of the stuff and after pricing it, it then it hits me, STROKE IT!
Why not? I have to replace most of if not all the parts anyway. It all has to be balanced no matter what parts are in it and it's the same amount of machine work (and money) with either build.
"Now I know where I'm at and I've got a plan"
After a ton or research on line and while I was cleaning and painting parts the plan came to me (subject to change at a moments notice).A 496 stroker motor is being built for the Nova out of the 4 bolt.
The best of what is on the 2 bolt thatís in the Nova now (heads, intake , carb etc) will go on the new stroker short block to finish it off. The short block that comes out of the Nova will have all its original stuff (from builds in the past) put back on it and I'll use it in the Monza. The 2 bolt is keeping a lot of stuff that's in it now. It will pretty much be the same motor short of the heads and intake. The intake will be missed. I hope I can find another like it for it. The heads not so much. I didn't find a great improvement with them like I though I would. Not worth the money for that short block but I think they will shine on the stroker.
That way I get to put the 4 bolt block in the Nova and can built it over the winter. When spring hits I pull the motor thatís in the Nova now pull the pieces I need, drop them on the stroker and drop it back in. Should take a weekend for the Nova. Maybe two.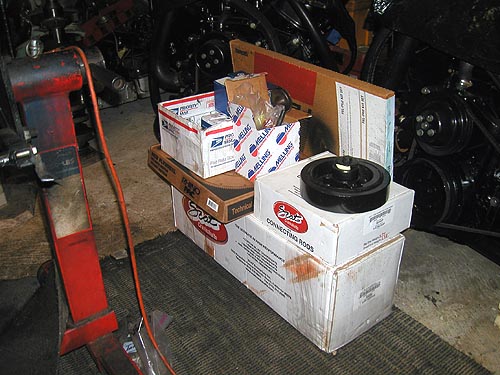 "Almost there"
A New Decade, A New Start
Itís been a few weeks between updates so here goes.
____________________________________________________________________
1/30/2010
Finally the pistons came in. After 2 exchanges, lots of shipping back and forth and after a couple weeks they are finally here. Sadly this is just the beginning of their journey. I have everything ready to go in the truck tomorrow so I can drop them off at the balancers on Monday. I don't expect it to be to long with them but as soon as they get back the pistons, rods and block has to go off to the machine shop for the block to be cut and the rods to be mounted to the pistons. Then I may be able to put this damn thing together.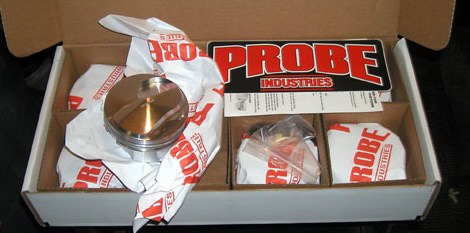 ____________________________________________________________________
2/6/2010
Then the snow came and came and came and itís screwing everything up. I would have the block back from the machinist by this weekend normally but I don't even have the stuff back from the balancers yet.
Two full on New England blizzards in 5 days and I live in a Mid Atlantic state. This has been the snowiest winter on record around here and Marylanders have no clue how to deal. And neither did the people that built the roof on the deck of the house we bought a couple years ago. After about 36Ē of snow piled up on it, it decided that it had enough and started to come down. Two days of emergency repairs and I got it saved and repaired to better then new but that was something I never expected. So you can say nothing but basic survival has happened in this area for a couple weeks. Please no more snow.
The roller cam is becoming an issue and I am about to give up on the dream. I've seen a thousand of them in the past go for almost no money but now that I need one ÖÖÖ. I still have time but it's running short not to mention my bank account. This third motor is killing me. Building a stock motor almost seems like a dream now and something I should have done.
____________________________________________________________________
2/15/2010
I have to bite the bullet and get the ball rolling.
Howards, Hydraulic Roller Cam, Duration 288/294, Lift .585/.610
I bought the lifters also but that is about it. I spent weeks going round and round on if I should use a Gen VI cam or a retro fit Mark IV cam in the block. The Gen VI uses a retaining plate instead of a cam button. I liked that idea until I found out you have to use a Gen VI timing set and how much they cost for the cheap single roller. That changed my mind real quick. I will keep a proven Cloyes double roller timing set any day and keep the extra $150 in my pocket.
Itís a start. I still need springs for the heads and pushrods but thatís it!
____________________________________________________________________
2/17/2010
Parts are back from the balancer and some are back out to the machine shop for cutting. Just in time too. First the holidays came and every thing was held back in January and like I said before there has been a lot of snow and March is only 2 weeks away. Whatís that all mean? Well there is still at least 24 inches of snow on the ground and the spring motor folks, racers, boaters, etc are just come out their holes to see the sun. According to my machine shop they are about two months behind work they have lined up. I was just lucky enough to get in a week before it is supposed to start.
I know I sound like a broken record (a skipping CD for the younger folks) but this is why I don't let up on this stuff when the season is over. I've had so many things go wrong on projects like this that eat up a ton of time. You have to build that extra time into the project from the start and figure itís going to happen. I've been building motors all winter. I have had everything from broken blocks, cracked heads to a reverse rotation hell and that was with just the race boats motors. All and all I feel pretty good about the progress. Any one of the 3 motors could have taken all winter by itís self for a number of reasons and I'm on number 3 and rolling on. I'm not out of the woods yet with the stroker but I can see light.
____________________________________________________________________
3/6/2010
Everything is back and I was ready to start the build last week but like always something had to go wrong. I had the wrong size piston rings. Not the 60 over part but the width of the rings themselves. Not 5/32's, I need 1/16th rings. So it set me back a week and a large chunk of change.
I also need a thrust bearing for the roller cam. Got the button but no one said anything about a thrust washer until a read a message board post about a cam gear eating up a block. Lucky enough I can finish it after I set the crank and pistons. So there will be no stopping now. Maybe a little slower but not stopped.
I did all the preliminary work tonight. Rings on the pistons. Cleaning all the packing oil off of stuff etc, etc. Tomorrow I'll get a lot of boxes emptied and everything stuffed into a big steal box.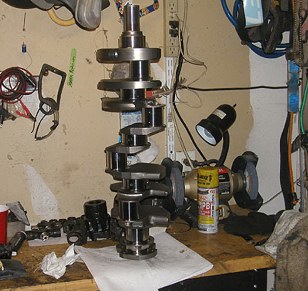 Here's to a long life Mr Stroker Crank.

____________________________________________________________________
3/7/2010
Not much of it is there but it is officially a 496.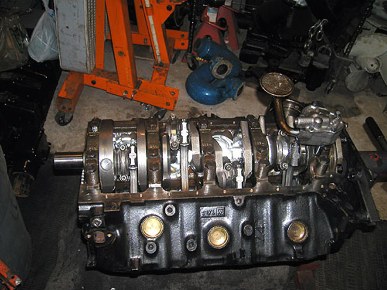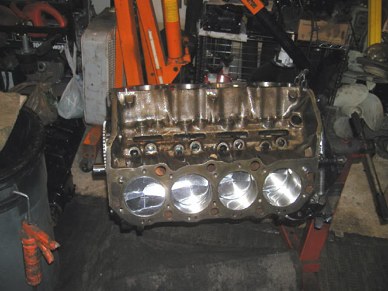 Lots of little stuff.
The new balancer is here after I found an issue with the old one and now it has to go to the House Of Balance tomorrow for who knows how long to be copied like the old one.
This has been an insane 5 months of building. This motor alone is well into it's second month and I didn't start it until I thought I had almost everything. The scary thing is this is just the short block. The other half of the motor is still attached to the other short block in the boat. Also the thrust bearing should be in by Friday so I can get the cam finally in. I not holding my breath for it showing up. Parts never do on a Friday when you want them.
____________________________________________________________________
3/15/2010
I've been giving the motor balancer so much work that when I brought the new balancer in he did it during my lunch break. A hell of a lot faster turn around then I thought. So by Saturday afternoon I had about everything I could install on the short block that I could. I left the oil pan off so far. I'm not sure which pan I'm going to use yet.
I have never spent so much time getting a cam button set to the proper length and the timing chain cover up to meet it and reinforced. Then to fill the space between the water pump and timing cover so there could be no flex.
I've got a couple loose ends to take care of like getting the oil cooler lines made and hooked up but for the most part I am where I need to be at this point.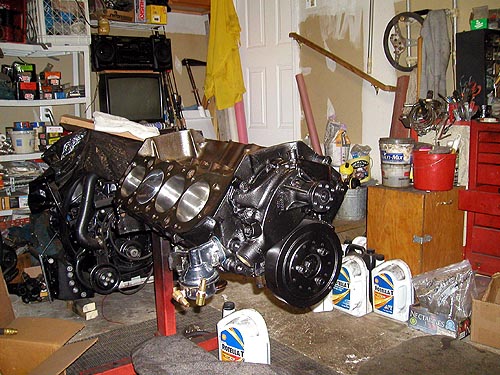 ____________________________________________________________________
3/17/2010
Another $150 bucks.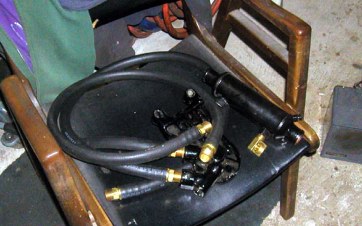 Custom made hoses (couldn't find the right sizes) at about $35 each. Ebay oil cooler and oil by pass kit.
The nice thing is I will have less to buy for the Monza's motor. It all had to be bought anyway so at least I'm getting the right stuff for this motor and the right stuff that's on the other motor will stay on it.
This whole thing is getting close to go in. I moved the boats around today. The raceboat is in the yard and the 19 is in the driveway. That can only mean on thing. Time to get started.
____________________________________________________________________
3/20/2010
And the swap starts. Out comes the 2 bolt.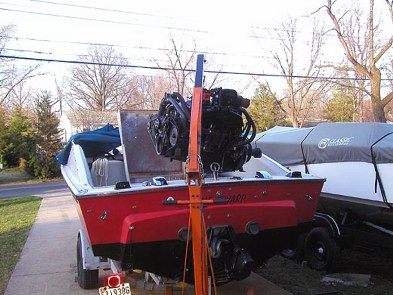 ____________________________________________________________________
3/23/2010
I'm kind of at a stand still at the moment. Still waiting on parts. A fitting to finish the oil cooling system, new pulleys for the front end, springs to finish the heads, etc, etc. Anything I can get done is but damn I cant move without these little things.
One thing I noticed when I took the matching valve springs out the heads for the Monzaís motorís cam. I noticed one headís exhaust valves were real sloppy in the valve guide. So now they are off to the machine shop for repairs. Of all the heads to have a problem with. I have another set sitting on a shelf but the are not these heads and I cant take the chance of breaking a valve in this motor at all so they have to be fixed. More time and money.
On a side note, the motor is only in the boat in the first place to make the insides of this thing spin.
To help the case that holds all the spinning parts get through the water and get it to the prop where its needed I have added this nose cone. I've used so much JB Weld itís sick. The first night was 4 small kits. That was after I heated the new nose cone up quite a bit and tapped it on to the front of the drive and let it shrink onto the drive. After it cooled I popped it off (so it was the same temperature) and filled it up with JB Weld spreading it on both the drive and nose cone and then smashed it on. A couple ratchet straps tightened and that was it for the first night.
I am on night 4 and figure there is two more to go. I'm using JB Weld as ďbody puttyĒ and doing a lot of smoothing out the lines with it. If it doesn't work itís not from lack of trying.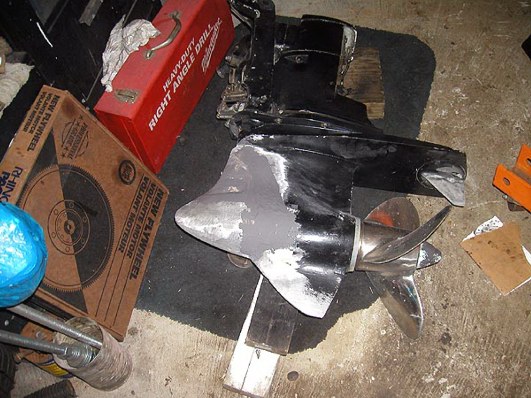 ____________________________________________________________________
4/6/2010
Moving along the last few days.
I completed the outdrive nose. Didn't turn out to bad if I do say so myself. If that doesn't help this massive Volvo drive get through the water then nothing will. A couple cans of paint and it is ready to go. We'll see how it works.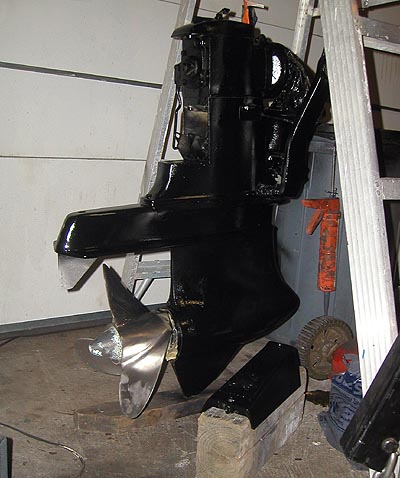 It took a couple weeks but the valve springs came in and then the heads had to go to the shop to be repaired. They came back in a couple days and I was lighter another 175 bucks. I'm sure I could have gotten away with using them like they were but why take the risk at this point.
So I get them home, put back together and I am jacked up and ready to go. Go to put the first head on and didn't notice that one of the head bolts was a little Ö.. not good. Torque the head down to 45 lbs, 65lbs 85.ÖÖÖPOP! I knew right away what it was. I pull the head back off and found the most center bolt in the head pulled the threads out of the block. Ohhhh F__K!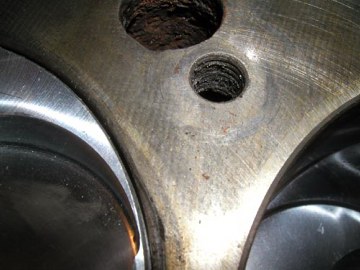 After some research and a couple phone calls to a couple trusted friends I came up with a plan. 7/16-14 Time-Sert Thread Repair Kit. Took 5 days to get the kit and another 70 buck (the alternative would have been much more). Then it took another hour and a beer or two to get up the nerve to actually use it. A half hour later it was in and now I was really nervous. Gave it some time for the loc-tight to set up and then it was time to put the head on. With my luck I thought it wouldn't work but I was happy to find out I was wrong. Right up to 85lbs with no problem.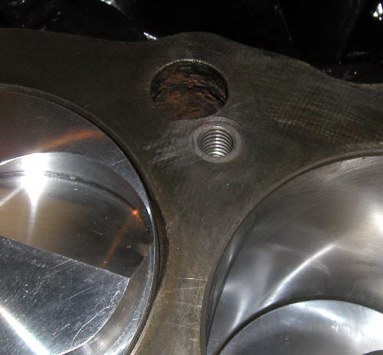 In the process I did get to put the one head on and got the measurements for the new pushrods. Totally not off the shelf but was able to buy them in stock so in a couple days another trick-flo box had arrived.
A couple hours later the rest of the motor was together and I was lining up the front pulleys. A washer here a washer there and it was good to go.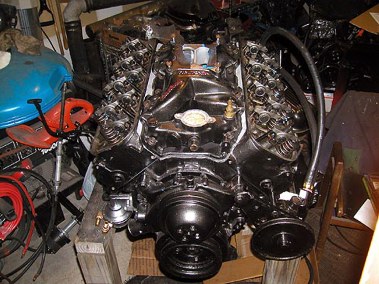 Last Saturday came and I thought, after a couple things I wanted to do to the boat it's self I would have the motor installed. As Saturday passed and Sunday came I started to figure I wasn't going to get the motor in by Sunday night so I took my time doing what I was doing.
Nothing to do with the motor but I was still waiting on the exhaust to show anyway and would rather install it with the motor still out.
As for the boat I had to change some wiring around, move the batteries to the front of the boat along with the battery switch. Had to add some new plywood shelves for the batteries to sit on with some glass to hold them in place. Then take out the old shelving for the gas tank along with the 30 gallon gas tank. I installed in place of the original a couple years back. Didn't have a use for the 55 gallon fuel tank back then as well the original sender turned into a rust-cicle and dropped a ton of crap in the tank. So it had to come out. After taking it out and giving it a good look over I kind of wished I would have left it but the deed was done and I packaged it up and held on to it for the last 5 years. Even moved it from house to house. Now that I live a little further down river and last summer around 6pm on a Sunday night I was about 7 miles from home looking for a gas station so I could get home I thought it was time to reinstall it. So that ate up Sunday with all the cleaning and such.
Monday came and I had to get the lawnmower out for the first time this year. Itís an old lawnmower so it has a rough first start.
One thing the exhaust tips came in while mowing the lawn. Now I'm only short two rubber elbows and this thing is ready to.
Today I cut the new holes for the 4Ē tips. Another eBay buy. Rubber flappers with internal stainless flappers. Not saying what I paid for them. All I can say is I wish I would have never sold the ones I took out of the Monza.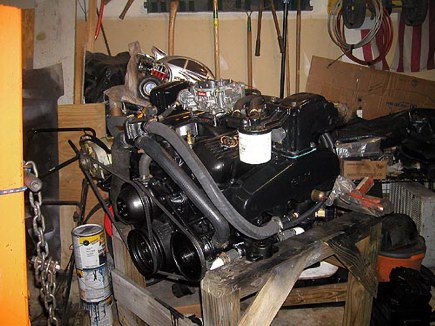 Getting there.
____________________________________________________________________
4/17/2010
It's almost done.
I found that there is an issue with the starter and it's killing my batteries along with the ALT is not putting out enough juice for normal running let alone with the starter issue. Did get to pull off a test drive. Picked up almost 3 mph at the same rpm. I think the nose is working.
But I couldn't get it above 5 grand (the same WOT spot it was last year). I think the issues above and the new fuel pump may have something to do with it. It's just not pumping like it should. So I'm waiting on the big brown truck to cure these things before the next test drive.
Now there's an ax.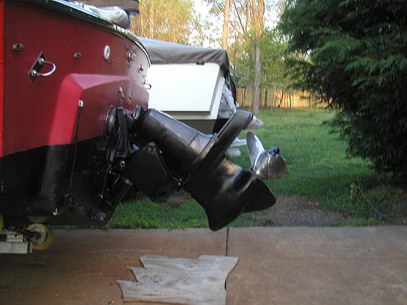 ____________________________________________________________________
4/27/2010
So much I just haven't had time to update whatís been going on. A lot of stupid stuff. The ALT may have been O.K. but it was swapped. Didn't fix it. Then the starter. The terminal going from solenoid to the motor was burned out and that did fix the starting issue. New fuel pump. Worked fine until it started blowing fuel out the top of the carb. Install a regulator and took it to the ramp. Now it was fuel starved and 50 feet from the ramp I blew a hydraulic trim line. Couldn't move the drive up or down. Parked the boat over on the beach and took the trailer up to the house for some needed repairs and paint. Went back and got the boat. Found the outside trim line had a hole in it. Replaced it. Took the carb off and reset the floats Reinstalled it tonight and bleed out the trim system.
Ready for another test drive. If the weather will cooperate.
____________________________________________________________________
4/30/2010
Uuuuuuuuuugggggggghhhhhh!!!!!!!!!!!!!!!!!!!!!!!!!




2 Fuel regulators and it's still fuel starved the POS!
That's;
1 fuel pump bought over the winter. Lost the recite and forgot where I got it at. Spent a lot of money on it if I remember right. Made my clear fuel filter look like a Jacuzzi.
#2 fuel pump is a Pro comp that apparently needs a fuel regulator. When I first hooked it up it blew fuel out my choke. I didn't think that was possible with an Endelbrock.
#1 fuel regulator. Hook it up and go to take off and the boat lunges forward and then dies. After two or three times I take it home and reset the floats on the carb. Try it again, same thing.
#2 regulator. Again the same thing. Tomorrow I'm taking the fuel pump off what is now the Monza's motor and due away with this regulator crap and be done with it. I'll just have to get the same fuel pump again for the Monza because that project starts Monday if the Nova is done or not.
____________________________________________________________________
5/1/2010
It's the stupid regulators. They are not worth a shit. More like restrictors then regulators. When set at 5 psi if you blow through it with a light breath it should flow though but you had to blow real hard to get any air through. 4psi may have been getting though but only the size of a pin hole with no where enough flow.
____________________________________________________________________
6/10/2010
I just joined a new club.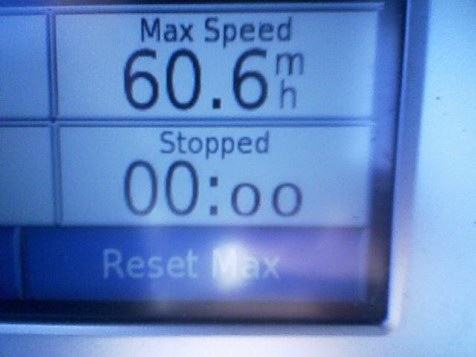 ____________________________________________________________________
6/12/2010
Had it out for a couple hours last night. On the way home the water pump pulley exploded and pieces flew everywhere. Never had that happen before.
Never seen anything like it.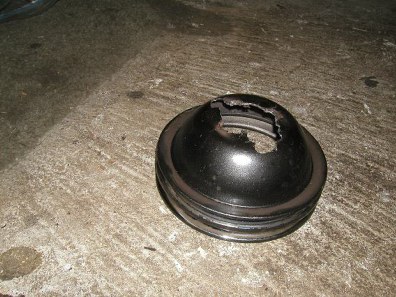 ____________________________________________________________________
7/12/2010
It's been a month and I am still working out bugs.
Ended up doing new aluminum pulleys. Had to line the whole front of the motor back up again. A shim here a shim there.
I've had it out two times since then and both times it ran real well. A little to well. Along with the motor build I changed gas tanks and moved the batteries to the front of them. Now it's nose heavy again. I have one more option before I have to do major changes to the layout of the whole boat. It runs real well on flat water but the boat doesn't like flat water. In a chop it gets a little wild and sometimes a little too wild when the prop breaks loose.
____________________________________________________________________
Build Sheet 2010
( * updated since the 2010 build - last update 5/9/2013)
*1987, MIE/340 (7.4) 454 4 Bolt Main Big Block
Dipped And Honed The Decks And Cylinders Cut .060 Over
Block Was Detailed With All Casting Debris Removed
*Scat 9000 Crank 4.25, 496 Stroker - cut .020 under
*Scat 26385716 - 6.385 in. Connecting Rods - Floating Pins -I Beam Forged 4340 steel
Howards Cams 120255 - Max Torque Retrofit Hydraulic Roller Camshafts, Hydraulic Roller Tappet, Advertised Duration 288/294, Lift .585/.610, 112 L/S
Howards Matching Valve Springs 98636 - 130# / 330#
Cloyes Gear 9-203 - Cloyes Wear Plate, .031 in. Thick
CCA-205 Cam Button
Maxspeeding Hydraulic Retrofit Roller Lifters
*Probe 496 Dome Top +18.0cc, .060 - SRS - PHV Series Piston Set
Clevite 77 Cam Bearings
*Federal-Mogal 4400 M20 Main Bearings
*King Engine Rod Bearings CR849HP
Cloyes True Double Roller Timing Chain
Mahle - 4.310 Plasma Moly Coated Piston Rings
Melling 10778C (Anti-Cavitation) Oil Pump
Melling HV Oil Pump Shaft
New Solid Harmonic Balancer
Rotating Assembly Fully Balanced
*Trick Flow Chromoly Pushrods TFS-21417800-8
Completely Refreshed Chevy BB Heads 14096188 / Open / 118cc / 3 Angle Valve
APR Head Bolt Sets
ARP 1.90 Rocker Studs
Norris S/S 1.7 Roller Rockers
Seal Power Gasket Set
EDELBROCK BBC R2 AIRGAP INTAKE
(Edelbrock 7202 Intakes Gasket Set)
Pro Comp 2752 Fuel Pump
*MSD Ignition
Pro Comp Distributor
Super Stock Coil
8mm Accel Hi Performance Wires
New Single Wire Alternator
Mini (gear reduction and fully marine) 3HP Starter
Edelbrock 800 Carburetor
12" Aluminum, Oval Air Cleaner With K&N Filter
Brass Freeze Plugs
Stainless Steel Bolt Set
4Ē Stainless Steel "Tall" Risers
496 MerCruiser Exhaust Manifolds
Sherwood Motor Mounted Raw Water Pump
____________________________________________________________________
Don't forget to click this link >>>>>
New
Decade, New Motor
<<<<<< and pick up where this page leaves off at.
Changes have already been made and more will follow.


The SuperNova19 Network