My Super Nova 19
MOTOR BUILD
360ci/330hp
____________________________________________________________________
This is the sixth and final version build sheet for the first motor I installed in the boat.
The Chrysler LA360ci.
If a part could be bought for it, it was and they all cost big time.
I have a long and sorted history with this motor for the few years I had it in the boat that can be found in the

section. Many rebuilds and changes due to newer things or money coming available, let alone fixing the screw ups I made.
____________________________________________________________________
What a great motor. Good things do come in small packages.
It has been a very long road to get to where I am at now. The first Chrysler small block I ever worked on was the motor for this boat. About every year after I have had the motor out for upgrades. I will spare you "all" the details of things that didn't work out the way they should have. Like when I installed a defective set of roller rocker. That cost me three top end rebuilds with cylinder head work each time. But now the top end is the best possible from improving on what I learned each time I did it.
Lets get to the good stuff.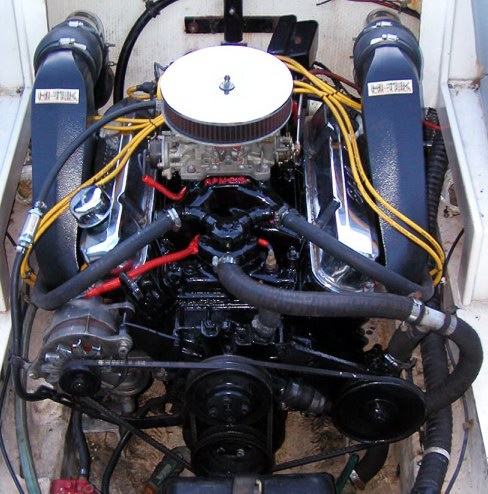 It was a long road to the top picture starting from the picture below.
Only a few irreplaceable things are left over from the old motor but not much.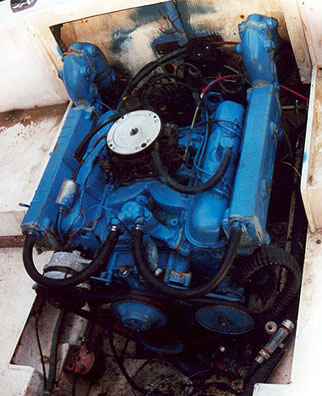 A very tired 318ci.
The first thing I did was strip off all the parts that were needed, then sent the rest of the old 318ci to the scrap mill.
I then went to the local junk yard and found a Chrysler 360ci motor out of a Dodge 15 passenger van and striped it down to the block and sent it off to the machine shop. Before the cylinders were honed I went to my favorite parts suppler,
Northern Auto Parts
to get a "Master rebuild kit" so the machinist could measure the piston heads to make sure they fit the cylinders perfect. From there the build was on. Like I said before I have done it again and again just because I found I could have done things better then I did the time before. The final results as of Spring of 2005 are as follows.
From top to bottom;
*Edelbrock chrome air cleaner (with K and N filter)
*Edelbrock #1410 750cfm marine carburetor
*Prestolite marine distributor (totally rebuilt) also added a Pertronix
Igniter electronic ignition upgrade kit.
*Accel Super Stock coil
*Accel 8mm Hi performance wires
*Edelbrock Performer RPM air gap aluminum manifold
*Magnum swirl port cast iron heads with 1.88"/1.60" valves
3 angel valve ports
Crain PowerMax race valve springs
Performer retainers and seals
*Crower performance push rods. Specially cut for
+1.00 in length. (mopar valve trains are non adjustable, if you make
changes you have to compensate with longer pushrods. Most have to
be custom made).
*Edelbrock chrome valve covers
*Weiand marine action plus water pump
*Edelbrock,True double roller timing set
*Crain PowerMax cam shaft and lifters set (a very cool duel plain cam)
adv dur int/exh 278/290
dur @ .050 int/exh 222/234
lift int/exh .467/494
deg of lobe separation 114
*Federal Mogal bearings
Main, rod and cam
*Block
1985 Chrysler 360ci (vin # W)
dipped, fluxed and all surfaces honed.
cylinders were cut .30 over
*Sterling pistons
.30 over flat top with valve relief's
10.25 to 1 compression
*Hastings molly rings
Speed balanced
*OEM connecting rods
reconditioned
speed balanced
*OEM Crank
reconditioned and reground
mains .10 under
journals .20 under
speed balanced
*Melling high performance oil pump
with a molly oil pump shaft
*Flywheel
12.5" 318ci flywheel (very rare)
custom balanced for a 360ci
*Fel-pro and victor gaskets
*Brass freeze plugs
*Stainless steel bolt set
*Victorian Marine HT11
stainless steel, header style exhaust manifolds
($2300.00 and only weigh 12lb's each)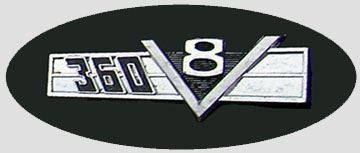 Dyno test sheet on the motor. The numbers don't lie.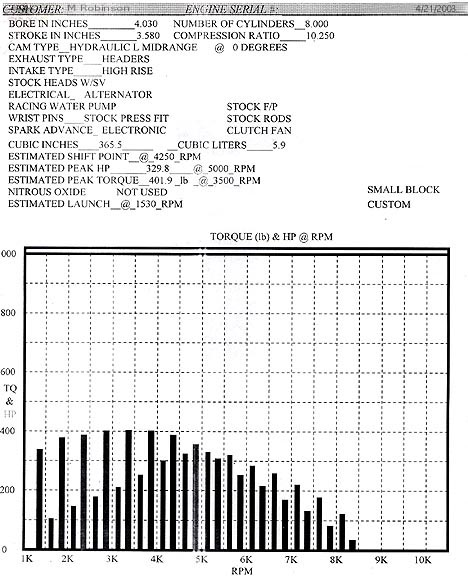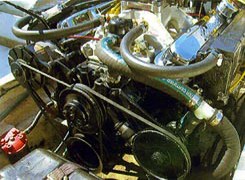 I had to copy the cooling system from a motor I found in a old boatyard.
There is also a lot of little stuff, but nothing worth mentioning as a standout. I have found a lot of little things do add up though. Also a little TLC what you do install dose go a long way.
I know some will say, "that wont work". Something that always comes up is the carburetor. "A 750cfm on a small block is to much!" Again I say to that, I have done it over and over. I have used a 600, 650, 750 and 850 (most were new or close to it) and I got the best performance out of the 750cfm.
I also can not say enough about having everything that moves inside the motor balanced. I will never build another motor unless I have it done before assembly.
Just back from the machine shop. Bottom end together.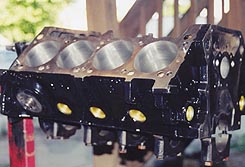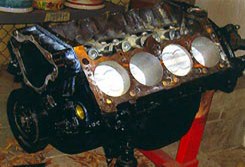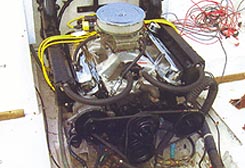 Lots of motor, no electric. Ready to go. For the first time.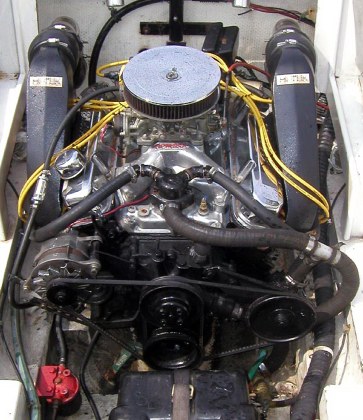 The forth, fifth or sixth version.
I forget now that I have done it so many times.
*
------------------- ---------- ------------------
-----------------------------------
------- -------
-----
One of Those Days
Video
This time it pumped it's self full of seawater when the timing chain cover failed at WOT.
See me bring it back to life in a matter of days.
-----
------- -------
-----------------------------------
------------------- ---------- ------------------
Don't forget to click this link >>>>> Spring 2002 <<<<<< and pick up where this page leaves off at.
Changes have already been made and more will follow.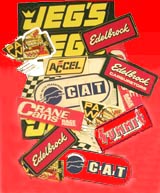 The SuperNova19 Network