After opening a retail boat and motor business. Mr. Allmand decided to manufacture boats in April 1963 and began producing a trailerable fly bridge sports fisherman with a semi- deep vee hull at a rate of one a week.
In November 1963 the company moved to a new plant in Hialeah, Florida. This increased production to five boats a week and expanded the line to eight models. In 1967 they moved to a 60,000sq foot plant capable of producing up to five million dollars worth of 23, 25 and 28 foot boats a year. Employing over 100 people and with ALLMAND quality and craftsmanship brought the company from one a week to a major US boat manufacturer.
ALLMAND networked out and sold their boats through authorized dealers in the U.S. and to many foreign countries.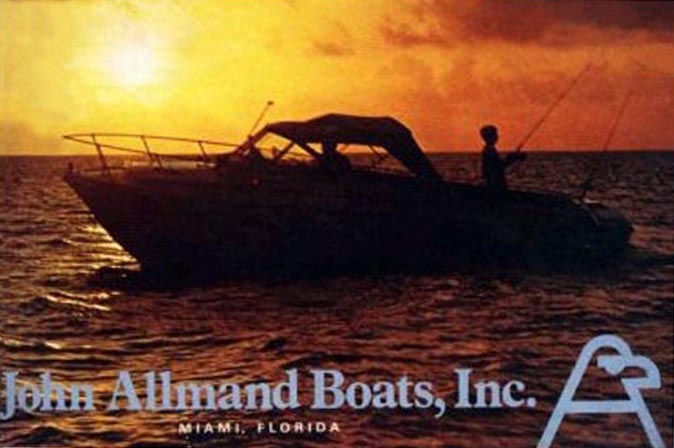 A lot of this information can be found on the
ALLMAND
web site
Allmand Boats.com
in their history section.
From there it gets kind of murky and turns into a bit of a mystery but I will do my best to explain what I know. If it is fact or fiction I'm not sure but until someone tells me differently this is the best I have been able to put together.
Allmand employees with a stringer section in lay up.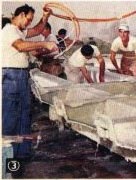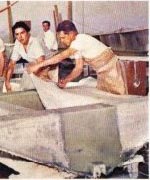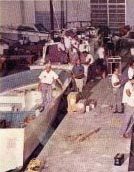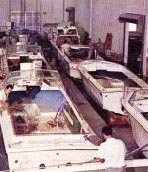 Assembly Line for the ALLMAND 23, 25, 28.
I've been in contact with John's son and current owner, Todd Allmand about some history over the years. He is more then willing to talk about classic
Allmand
boats or any other boat for that matter when he has the time. Todd will drop me a email on rare occasions but as a business owner time is very valuable and looking into the past all the time is not his focus. His focus always must be on the future to keep
Allmand
competitive with today's market. Todd
did find time to post pictures of my
Super Nova
in their history section of
Allmand Boats.com
but there is still a lot of questions about the company that have gone unanswered.
I really do believe Todd couldn't answer most of the questions I have even if he had all day to do it. These boats were built was over 35 years ago and Todd was a kid running around in his Allmand "Jumper" and not working in the office.
-The Jumper-
The Allmand Jumper was a concept boat built by Allmand in 1970 through 1972. Not much was known about the Jumper until very recently. After some very extensive investigative work a lone picture of the Jumper was found. Most assumed that it was just another name for the Super Nova19. After see a picture Allan "Brownie" Brown was quoted when asked about it, "It ain't me babe! Whatever the Jumper is, it was designed and the plug was built by Nick Chapman."
Well now we all know it is not the Super Nova at all.
It is a very cool boat to say the least and it's a shame the boat was not brought into production.
So to kill off one more misconceptions here is the Allmand "Jumper" and its not a Super Nova19 at all.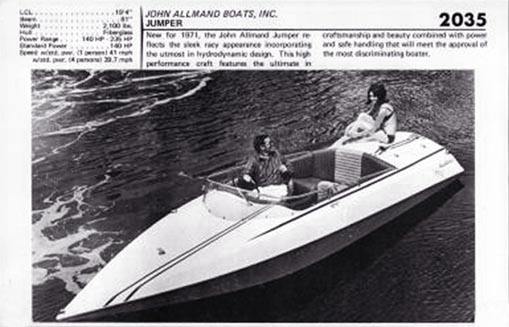 Todd Allmand would tell me, "Only a few were built. It was a test hull design.
Although you cannot see it the underside of the hull was like the old thunderbird, like a
cathedral but more flat and less concave, if that makes sense.
It ran good on smooth water but it would beat your brains out in a 2 foot chop.
We sold the molds to a guy who modified it to build the Hydrostream. A fast bass boat."
And then...........
We were recently contacted by someone that had some very interesting news.
We will let him speak for himself due to we are speachless at the moment.
Hi SuperNova19.com,
I just purchased a 1970 Allmand Jumper. It looks just like the black and white ad photo you have in the Allmand Boats section. I am writing you because you have the ONLY website that even mentions this boat! It has a Ford 351 Cleveland motor (supposedly the original) coupled to a Volvo 250 outdrive with thru-hull exhaust. The hull is in quite good shape, and I am in the process of getting the motor running. The interior needs work. The motor and outdrive is complete, but I'm not quite sure of their condition yet.
It is DEFINITELY an Allmand Jumper, very clearly stated on the boat.
Regards, John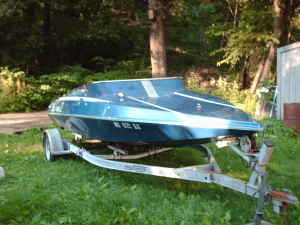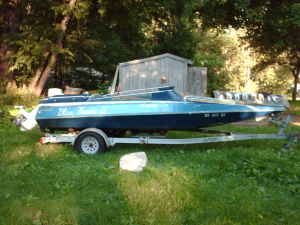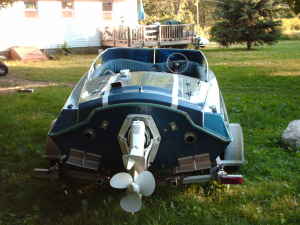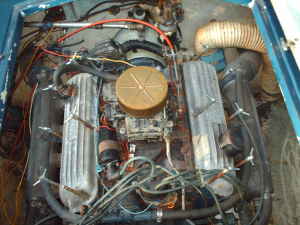 We DEFINITELY think it is a Jumper also. The one and only found so far.
John Please keep us up to date on your progress of this little piece of history.
Over the years the company has always been and still is focused building large boats. As said before there has been couple boats under 20 feet in their history and most have always been "open fisher" style. Their main money maker boat lines were 22' or larger cabin cruisers, sailboats and offshore fishing boats so when the
NOVA19
from
NOVA MARINE
came it
seemed like a strange fit to say the least.
But was it?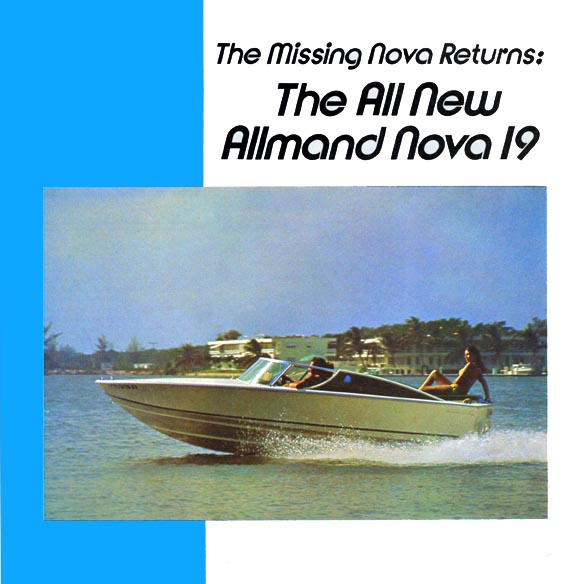 The only Allmand SuperNova19 magizene artical found to date.
I guess the girl on the motor box came with the deal.
The
Nova19
did have
a lot of admirers for its short run with
NOVA MARINE
and one of them was President of
Allmand Boats
, Ed Cahen.
ALLMAND bought the mold for the NOVA19 from NOVA MARINE in 1972 and produced the boats for a couple years in different versions.
They made a few changes with the redesigning the windshield, upper side panels, floor panels to access the gas tank and a I/O set up was the only drive system instead of Vee drive. Even with the change of propulsion the ride characteristics remained the same. And just because the Vee drive was gone didn't mean the motor behind them was. In 1972 the Nova19 could be optioned with a Chrysler Super Bee 3 with power trim.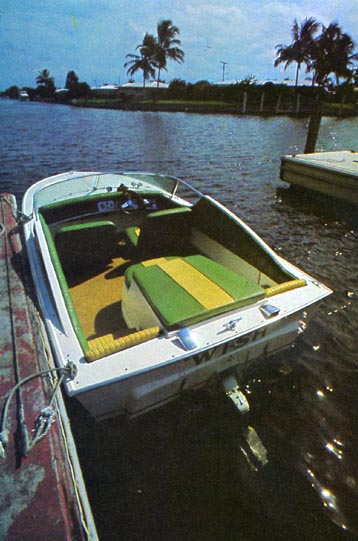 WISH
The first Nova19 off the Allmand line, "Wish" was for, of all people, Milton Wishnick. Milton is the cousin of Bill Wishnick. It was Bill and Brownie who designed and built the first Nova19's.
The Super Nova may have been a replacement for the misconceived Jumper or even a pet project for John Allmand and Ed Cahen because of so few that were made. John even had one built for himself. The current owner of John's Super Nova was in contact Todd Allmand and was told by him that the boat he is now restoring was Todd's fathers at one time. So there was lots of interest at the beginning but why so much time, money and effort was put in to producing so few boats is a good question I cant get a definite answer to. I am almost positive they had every intention on producing these boats in numbers until the small, gas guzzler, fast boat market dried up in 1973 because of the gas crisis.
After one year, 1972 Allmand dropped the Super Nova and gave up on developing the Jumper to concentrate on what they had been doing all along. Large sail and power boats.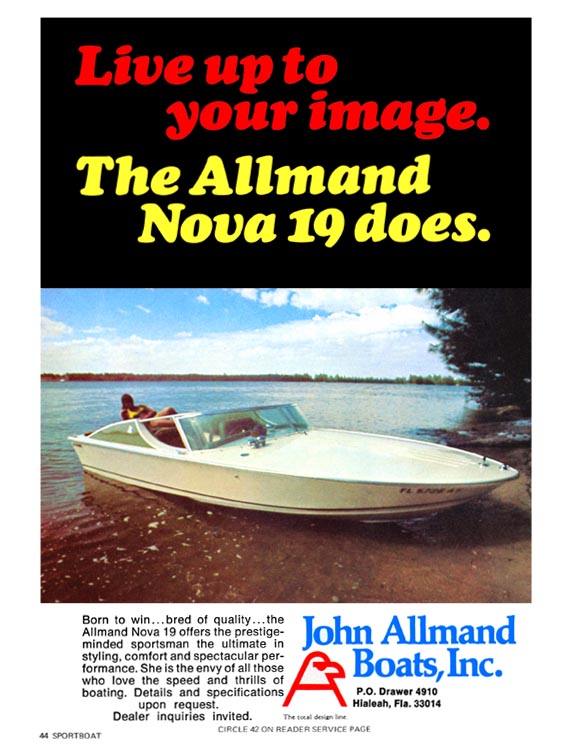 Born to win...bred of quality are not just words but I could do without the Avocodo green.

A e-mailer did inform me that ALLMAND did use the hull's mold of the Super Nova to make a couple open fisher, center console style boat in 1973 to try to save to 19' line but it was to little to late. Also past owners of the center console style boats told me that it was a very nice, functional riding boat but to me there would have been something missing, like a deck and windshield.
I did get a chance to look at one up close a couple years back when I ran across it locally. It was very strange looking at my boat in that configuration and at the same time very familiar. When you look at my boat you know it's a classic (some say old) but when you looked at the center console it looked like it could have came off that years assembly line. Very modern for it's time and was still in great shape for a 30+ year old fishing boat.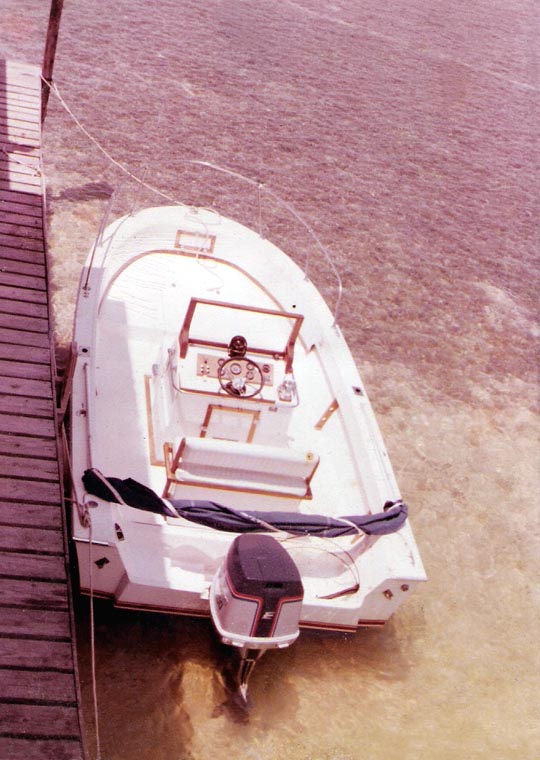 A 1973 Allmand 19 center console.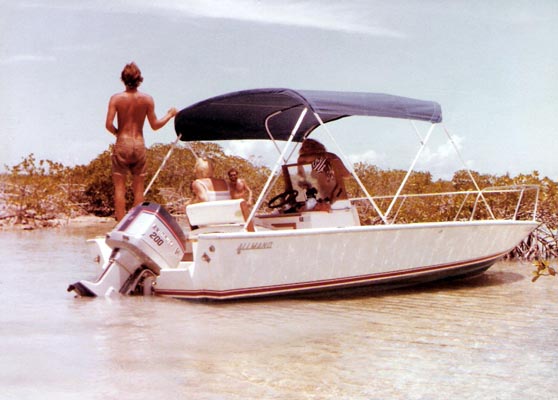 With a 200 on the back of this boat I am sure it would go!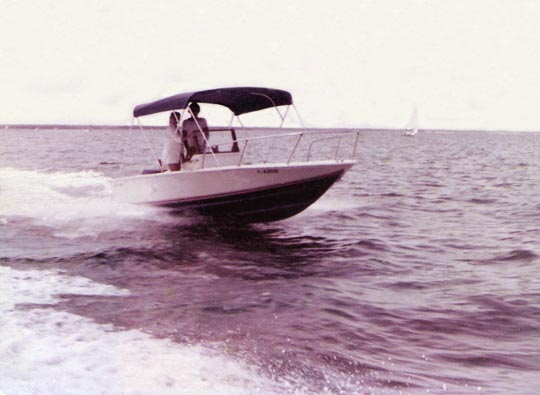 Here you can easily see the SuperNova19 lines.
SN19.com was lucky enough to get a email recently with a new find.
It's a Allmand Fisherman but this one is powered by a Ford 302 and a Mercruiser outdrive. It is the first I/O Fisherman we have come across. We knew they were out there and now we have proof.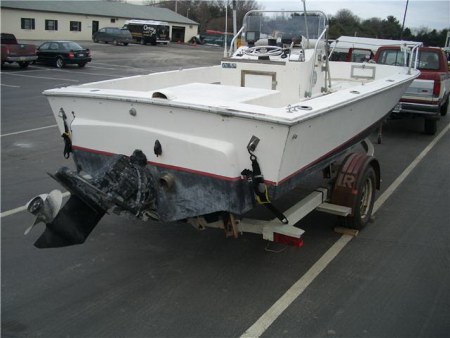 Thanks John for sharing.
The next few years were not as good as the past for the company. A former employee I spoke to a few years back told me this. "Back in the mid 70's the company fell on hard times and went out of business or bankrupt due to the economy / gas crisis ("gas was to expensive for big gas hog boats") and ALLMAND refused to skimp on construction of their boats".
A recipe for company suicide in the mid 1970's. I know all owners of ALLMAND boats today thank them for going that route instead of making cheap boats.
As for the company going out of business. Bankruptcy is more likely. That is just a bump in the road for a lot of companies. It could have closed for a short time back then but they are open now and I am sure Todd Allmand would love your business. I did find out that the molds for the NOVA19 went with John Allmand's brother and are believed to be with him today. As for there condition, it is unknown. For now I will leave it at that until I know more and believe it to be true.
All owner's of a ALLMAND boats of any size or shape that I have come in contact with has had nothing buy praise for there boat. Construction, durability, longevity (most are over 30 years old), appearance and the performance of the boat on the water always comes up with high regard.
Brownie
could have not sold his molds for the 19 to a better builder. If you have read the
NOVA MARINE CORP.
page you know where his other molds went and in my humble opinion
ALLMAND
construction was better then
WellCraft
. Trust me I am not knocking
WellCraft
at all. I have always had a soft spot for the
WellCraft Nova
long before I knew how they came about. I flipped out when I found out the connection between the two boats.
As for how many SUPER NOVA's were made? I don't know. My hull number is 1941. The 19 is for the length and we figure the 41 is the number of hulls made up to that boat by ALLMAND. Remember NOVA MARINE made 32 and ALLMAND may have added another 41 that we know of. There could be another SUPER NOVA 19 out there with a higher hull number but so far there is less then 75 made overall. So I know it is a long shot but if you have one please contact me from the link provided.
ALLMAND BOATS.
Still built as good as they were in 1964.
Click the Allmand icon to visit their home page.
JOHN ALLMAND
BOATS, INC
16805 Southwest 97 Ave
Miami, FL 33157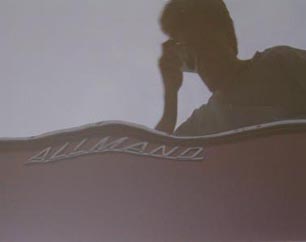 The SuperNova19 Network